The Baxter County Republican Committee is once again pressing Baxter County's Quorum Court on the issue of paper ballots.
During Tuesday's regular Quorum Court session, BCRC 1st Vice Chairman Mary Ellen Anderson asked the court to put together a non-partisan or bi-partisan committee to weigh the pros and cons of hand-marked ballots vs. electronic ballots in the upcoming 2024 elections.
Anderson said she would like to chair the committee, which would place the committee under the direct control of the BCRC leadership. Anderson did not mention her affiliation with the BCRC during Tuesday night's court session.
"Being a Baxter County resident, I appreciate your time and energy," Anderson said. "I know we are all beat up about whether paper ballots or electronic ballots are best for our election process, so what I want to do is create a bipartisan committee that explores the pros and cons of paper versus electronic ballots."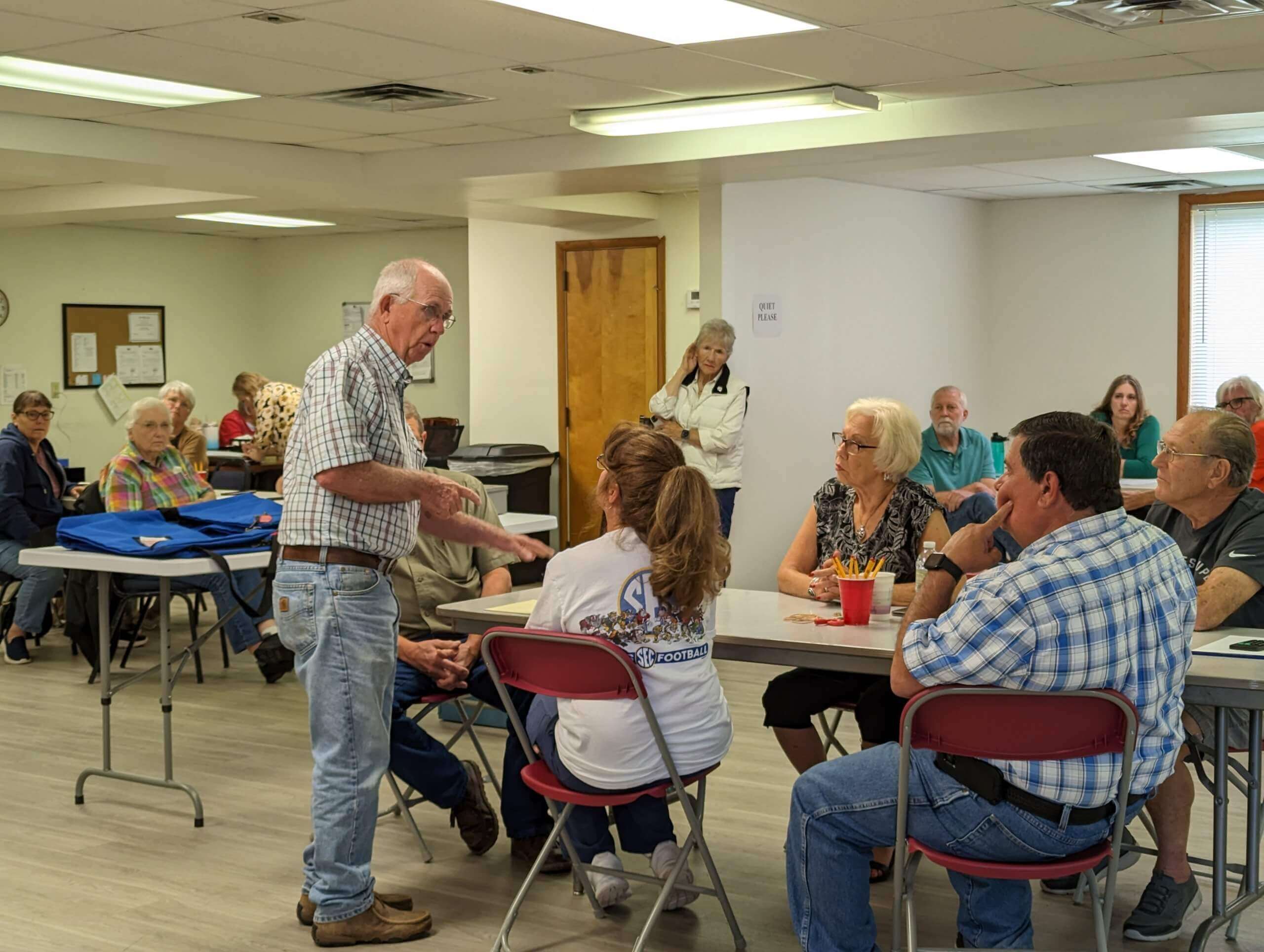 The Quorum Court did not pass a motion to approve Anderson's request to form an official committee on behalf of the county. Baxter County Justice of the Peace Dennis Frank volunteered to represent the Quorum Court on a citizen committee if one was put together.
In July, Frank reported to his fellow court members after researching the cost of switching over to paper ballots on behalf of the county that using pre-printed ballots would cost Baxter County $57,0000 per election. To date, the last three elections have cost the county a total of $41,693.63.
If the county were to use blank ballots and print the proper precinct "on-demand" it would cost the county roughly $100,000 per election. If the county were to divide its printed ballots into 45 separate precincts, costs would rise to a staggering $235,000.
In her presentation, Anderson said Searcy County had concluded that switching to paper ballots would be cheaper for their county. The Searcy County Quorum Court passed a resolution last month signaling that its court members would like to transition to paper ballots.
To move forward, the Searcy County Quorum Court would need to pass an ordinance to make the transition legal. No ordinance has been passed at this time.
Members of Searcy County's Election Commission said they expect costs to be slightly cheaper to roughly the same if the switch is implemented. The population of Searcy County is just shy of 8,000 residents.
Under new state law, Act 350, counties that choose to forgo electronic voting machines in favor of paper ballots will be responsible for the cost of the paper ballots and any devices or machines required for printing and tabulating paper ballots.
In an interview, Sen. Kim Hammer (R-Benton) and sponsor of Act 350, criticized Searcy County's plans to switch to paper ballots, saying the county will have to cover the costs of its own election.
"I wonder if the citizens of that county really know what dollars are going to be taken away from other vital services because they're going to have to pay for their own election," Hammer said.
Anderson stated she would approach Baxter County Election Commission members about joining. Anderson also said she would like to hold a town hall on the issue of paper ballots versus electronic machines.
The BCRC passed a resolution in March in support of returning Baxter County to using paper ballots.

"It'd be nice if we could get this committee put together and get a study completed, see what the costs are, what the impact could be and present it to you next month," Anderson said.
Baxter County Judge Kevin Litty questioned if Anderson could gather all the numbers and data needed to make a case before the court within her 30-day suggested timeline.
"I'm sure you could put together a committee, I don't know if you can get all the numbers, you need and all the intel you need in 30 days, but you know, I don't see the rush either. It could be 60 days," said Litty.
Prior to Tuesday's meeting, Donnie Scroggins, a co-founder of Arkansas Voter Integrity Initiative (AVII) alongside Colonel Conrad Reynolds, spoke to the BCRC during their Aug. 29 meeting.
Reynolds's non-profit is currently involved in a lawsuit against Secretary of State John Thurston, the State Board of Election Commissions and Election Systems and Software in an attempt to force Arkansas to do away with its legislature-approved voting machines.
Reynolds's suit was moved into federal court in May following a ruling by Pulaski County Circuit Court Judge Tim Fox, but then allegedly moved back to Judge Fox after U.S. District Court Judge James Moody remanded the case back to Arkansas. Reynolds has been seeking a restraining order to stop Arkansas counties from using their voting machines while the suit is ongoing.
The AVII previously visited the BCRC in March to discuss transitioning Baxter County to paper ballots. In that meeting, Reynolds admitted that he had no proof that Arkansas's elections had been tampered with.
Reynolds has lost multiple elections in Arkansas throughout his political career. In 2010, Colonel Reynolds, who was known as Conald Reynolds at the time, entered the Republican Primary for a chance at former U.S. Senator Blanche Lincoln's (D) seat.
Reynolds faced an uphill climb against primary opponents like U.S. Senator John Boozman, who would win the primary and the 2010 election, State Senator Gilbert Alexander, Tea Party candidate Randy Alexander, Arkansas Senate Minority Leader Kim Hendren, and former State Senator Jim Holt.
Reynolds would come in fourth place in the primary with 7,128 votes. Boozman would win by a large margin with 75,010 votes.
After his loss, Reynolds would again try his hand at politics in 2014 by facing off against French Hill and Ann Clemmer for retiring incumbent Tim Griffin's 2nd Congressional District seat. Reynolds made waves in that race after filing to legally change his name to Colonel Conrad Reynolds in an attempt to place his military rank on the ballot.
While Reynolds was successful in changing his legal first name to that of his previous military rank, he ultimately lost the primary race to Hill. He would lose to Hill again a second time in 2022.
Scroggins, who also ran for office, appears to have lost his race for District 56 of the Arkansas House of Representatives against Buddy Lovell in 2010.
Earlier in the year, Reynolds was endorsed by Kari Lake, who failed to win her gubernatorial seat in Arizona last year. Lake, who has also been endorsed by Trump in her efforts to prove election fraud, filed a series of legal challenges against Arizona and Arizona Governor Katie Hobbs following her loss, claiming that the election was not held correctly. Her last legal challenge over her 2022 race was thrown out in May. Lake continues to deny Arizona's 2022 election results.
Reynolds told members of the BCRC that he met with President Trump at Mar-a-Lago alongside Lake and Lindell on Feb. 15. During his presentation to the BCRC on Aug. 29, Scroggins referenced his time at Lindell's 2021 Cyber Symposium.
Lindell is currently involved in a lawsuit over his failure to pay Robert Zeidman a promised $5 million for being able to prove that Lindell's election data "proving" Chinese interference in 2020 was fake during his 2021 Cyber Symposium.
During his meeting with the BCRC in August, Scroggins discussed a wide variety of topics ranging from AVII's court case against Arkansas, the Searcy County resolution, living during Martin Luther King's assassination and why the founding fathers created the Second Amendment.
At one point, Scroggins questioned the Baxter County Election Commission's hand recount of the May millage election over Mountain Home High School.
"Y'all just went through this in that school race," Scroggins said. "And it's kind of strange how they set that paper count up. Long story short, I think the day of voting came out equal but early voting came out with a three percent variation. And I think it was the SBEC that said three percent is acceptable."
The May election recount came out of a secret decision by all three of Baxter County's Election Commissioners to alleviate voter's concerns over the integrity of Baxter County's election machines.
"The election commission is doing this to show that the equipment is counting the votes as voted by the citizens of Baxter County correctly. We also are looking to achieve a better understanding for ourselves, as well as for those on both sides of this issue to see what counting paper ballots would entail. This will also aid the commission to make better preparations for next year's elections should the paper ballot issue be passed by the quorum court," said former Baxter County Election Commissioner Lynn Weaver in an email in April.
In May, BCRC District 1 Chairman and Ozark Patriot member Dennis Chafa began pushing for other Ozark Patriot members and associates to begin passing around a petition over the paper ballot issue to present to the Baxter County Quorum Court.
Members of the Patriots and the BCRC began reaching out to individual Justices of the Peace to pressure them into moving the county over to paper ballots.

When the time for the recount came, many of the 21 volunteers who participated in the event were surprised by how difficult it was to do an accurate count over large batches of ballots, resulting in the majority of the group stating that they would like Baxter County to continue using its machines during elections.
Only two members of the 21 volunteers said they would like the county to move over to paper ballots. In its entirety, the hand recount took eight hours to complete. It only involved one millage issue and one school board race.
Following the 2020 election, the Arkansas State Board of Election Commissioners (SBEC) conducted a random audit of that year's ballots in White, Pope, Lincoln, Faulkner and Madison counties.
In their audit, the SBEC determined that "the voting equipment used and audited in each of the five selected counties rendered a faithful and accurate count of the ballots which were submitted to the system for counting. Based on these findings, it is the conclusion of the SBEC that the ExpressVote system accurately tabulated the election results for the 2020 General Election in the State of Arkansas."
The audit came back with 100% accuracy. Only one discrepancy was ever noted during the audit, with one ballot accidentally being placed in the emergency slot on the tabulation machine. That accident resulted in Trump having one additional vote over the machine-tabulated results for the St. Paul polling location. After checking the total number of voters who cast their ballot that day, the SBEC's attorney verified with the County Clerk that a voter had made the human error of placing the ballot in the emergency slot instead of running it through the tabulator.
"This is not an easy task," said Baxter County Clerk Reese after completing the May recount. "This is one millage issue and one race per ballot. Now, when we're looking at a primary or a general election, we're looking at 15 to 18 races plus three to five ballot issues. It's taken us a full eight hours to get to this point. And for the smaller districts, we're within one or two of being accurate on every one of them. For Mountain Home School District, we're not there. We're 46 votes off on the vote total for the millage. That's three percent of the ballots that we've made errors in counting."