During the Senate's two-week in-state work period, U.S. Senator John Boozman (R-AR) has traveled the state talking with Arkansans about the issues impacting families, businesses and communities. The topics on the minds of most residents focus on the impact of skyrocketing inflation, rising gas prices, labor shortages and supply chain disruptions on their budgets and operations.
Supporting Small Businesses
Boozman continued his ongoing conversations with business leaders across Arkansas to discuss the challenges they face in this economic climate. Small business owners in Batesville shared how skyrocketing inflation is impacting them.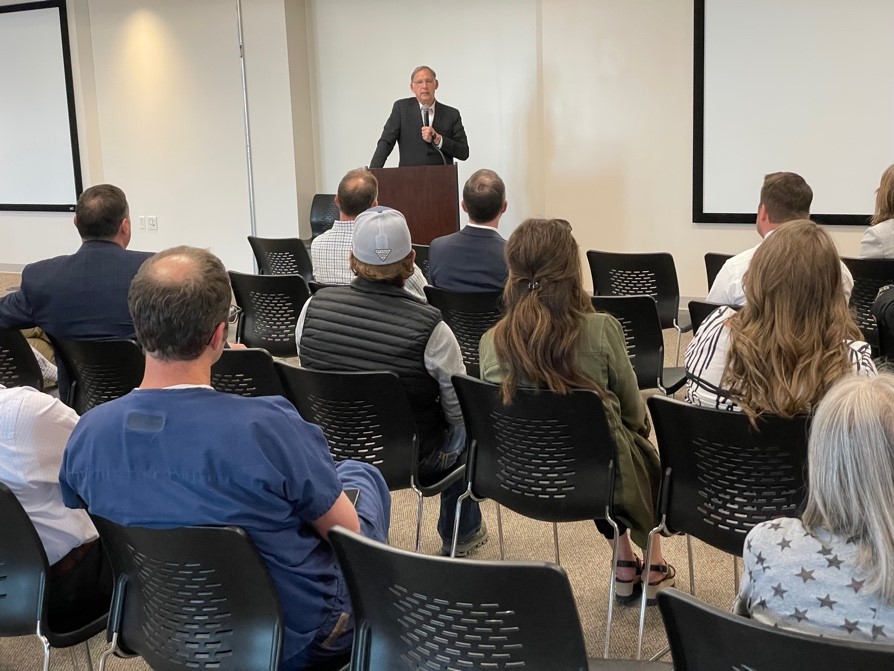 In Fort Smith, Boozman heard from home builders who are experiencing delays in receiving construction materials as a result of supply chain disruptions.

Home building, like many other industries, is experiencing a shortage of skilled labor. Boozman visited the Russellville training facility working to close that gap and provide hands-on instruction for future construction workers.
In El Dorado, the senator saw how South Arkansas Community College is helping meet the needs of local businesses and developing the next generation of skilled-workers with its Advanced Manufacturing Training Center.

Unleashing American Energy
Boozman hascalled on President Biden to rescind his policies blocking construction of the Keystone XL pipeline and banning new energy development on federal land. The senator has urged the president to unleash American energy production using the abundance of our nation's resources to help provide relief from skyrocketing fuel prices and increased home heating costs. He continues advocating for an all-of-the-above energy policy to diversify our existing energy resources including the use of solar energy.

Advocating for Veterans
As a senior member of the Senate Veterans Affairs' Committee, Boozman has delivered improvements to benefits and services for Arkansas veterans and helped expand access to community health care.
The senator visited Malvern's Covenant Health Urgent Care that aimed to provide urgent care services to eligible veterans, but ran into bureaucratic barriers and delays. Boozman's office stepped in to help speed up the process and the clinic was successfully authorized to provide veterans care through the VA's Community Care Network.

Dr. Shane Higginbotham, owner of Covenant Health Urgent Care, discusses how the clinic supports the health care of area veterans.

Boozman visited with veterans at Camp Jack in Harrison to hear about new initiatives to help support mental health needs of area veterans. The senator has been a leader in developing policies improving VA programs to support veteran-serving organizations and their outreach.

The senator applauded the dedicated medical professionals at the VA Community-Based Outpatient Clinic (CBOC) in Mountain Home who administer health service to veterans. CBOCs are an important tool within the VA system that allow veterans to receive care close to where they live.