Editor's Note: The Mountain Home Observer has pledged to donate $2,500 over the next five years to help fund the Coulter Celebration of Lights.
The Coulter Celebration of lights will be taking it up a notch this weekend by hosting its first Christmas festival on campus.
From now until Dec. 24, families will be able to bring their kids over to ASUMH for carousel and train rides after work. The rides are free for children 12 and under. Parents and those 13 and up can pay $5 to join the little ones on the ride.
Parents are encouraged to bring the kids out and enjoy a meal of hotdogs, chips, popcorn, hot cocoa, cookies, and crispy rice treats for $5 before heading over to meet the jolly man himself.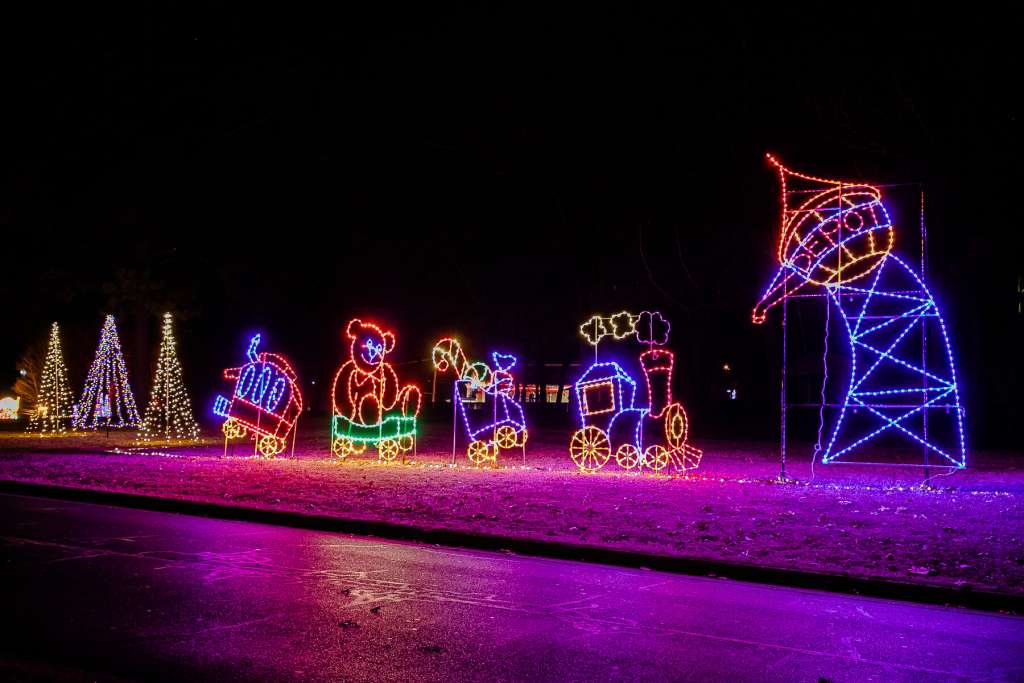 While the Coulter Celebration of Lights had an amazing first year last Christmas, the festival has seen an expansion of growth leading into the new holiday season.
This year the festival will feature over 2 million lights in displays ranging from the 12 Days of Christmas, a veteran's display, a full gingerbread village, a reindeer court, Santa's toy shop, a piggy bank and an elf, Mrs. Santa cooking, and a camping Santa featuring a full Airstream RV.
The Coulter Celebration of Lights is a joint light festival created by ASU-MH Chancellor Robin Myers, Mountain Home Mayor Hillrey Adams, Dr. Ed Coulter, chancellor emeritus of ASUMH, and his wife, Lucretia Coulter.
The festival first gained traction after Adams and Myers came up with the idea for a Christmas light show in Mountain Home. From there, Adams raised $30,000 to start the show, with an additional $50,000 donation coming from Mountain Home's City Council.
Following the announcement of the festival and calls for donations, the Coulter family stepped in and donated $200,000 to elevate the light show to a new level. The donation was made in honor of Dr. Fran Dryer Coulter, who passed away from cancer in 2001.
The campus light show was a hit, drawing in $38,000 in community donations throughout its first season. The festival raised $418,000 overall in its first year.
This year has seen another explosion in donations, with several individuals and businesses coming together to raise $250,000 to expand the light show further.
Over 100 members of the community have also stepped up as volunteers to put on the light show. Morgan said 250 volunteers would be needed to manage the rides and concession stands this year.
The light show is put together by crews from ASU-MH's maintenance division and crews from Mountain Home's Parks and Recreation division.
A quarter of the money donated to the Coulter Celebration of Lights will fund scholarships for local students attending college courses in town.
Remember Dr. Fran Dyer Coulter
Mountain Home Arkansas was no stranger to Dr. Fran Dryer Coulter when she and her husband first moved to the city to help set up a new junior high school.
As one of the daughters of the famous Dryer clan, Dr. Fran Coulter spent her entire life in the Twin Lakes area before attending college at Ouachita Baptist University.
There she pursued her passion for history while establishing a strong marriage with Dr. Ed Coulter. A bright and driven woman, Dr. Fran Coulter matched her husband's achievements by graduating summa cum laude with her bachelor's degree before obtaining her master's and doctorate degrees.
After the couple finished building Mountain Home's new junior high school, she took up the role of professor at Ouachita Baptist University. At the same time, her husband settled into his new job with the university as a consultant for the Arkansas Technical Assistance Center; a department focused on helping public schools desegregate during the 60s.
They would both excel at their jobs. Fran would receive her full professorship while Ed would become the school's vice president for administration for the next 20 years.
Together the happy couple traveled the world, visiting all of the places and historical sites she gave lectures on to her students. During this time, the couple would have three children together.
Fate would call in 1995 after Arkansas State University asked Dr. Ed Coulter to become chancellor and take Arkansas State University – Mountain Home Technical College to the next level by building a new campus. The task was difficult, but Dr. Ed Coulter had the experience to pull it off.
Fran would sacrifice "the mountain she had climbed" by stepping away from the position she had earned at Ouachita State University and returning home to the small American town she had grown up in.
Over the next few years, the Coulter's would secure funding for the campus's 140 acres and buildings. They would break ground with Governor Mike Huckabee in 1998 to celebrate the first phase of construction for the campus's buildings.
By 1999, ASUMH achieved an attendance of over 1,000 students for the first time. Those students would march from their old campus to the new one Jan. 11, 2000.
Mountain Home's dream of having a university had finally come true.
In 2004, Dr. Fran Dryer Coulter passed away after battling cancer. The Fran Coulter Honors Program was established in her honor in 2003.
Volunteering
The Coulter Celebration of Lights is currently looking for more volunteers to help make this Christmas a special time to remember. If you would like to donate to the celebration or volunteer, please contact Mollie Morgan at [email protected] or (870) 508-6191.
Sponsors
This event would not be possible without volunteers and sponsors. A special thank to all who have given their time and/or financial resources!