Legacy.
It's a powerful word with even more powerful implications. It's a word that every human thinks about at some point in their life.
What will my legacy be? How will I be remembered? What will I leave behind?
It's a word that drives men and women to reach for the stars and devote themselves to making a lasting impact on their communities. It's a word that's built handshake by handshake, conversation by conversation, contract by contract and brick by brick.
When Mountain Home Mayor Hillrey Adams and Arkansas State University – Mountain Home Chancellor Robin Myers got together in Aug. to discuss creating a Christmas light show for local community members to enjoy, they did not know they would be helping one of Mountain Home's most prominent families give back to the community who helped pave the way for their lasting legacy.  
In Sept., Dr. Ed Coulter, chancellor emeritus of ASUMH, and his wife Lucretia Coulter donated $200,000 to Mountain Home's first Christmas light show after Lucretia suggested donating funds in honor of Dr. Fran Dryer Coulter, Ed Coulter's first wife, who passed away in 2001.
"We sat down there at ASU with Dr. Coulter and Lucretia, and we presented our plans," Adams said. "He and his family have done a lot for this community, and Arkansas State University is what it is today because of his time as chancellor. I know this light show is very special for him. They go through it every night. They did this in honor of his first wife."
The Coulter Celebration of Lights was born.
Creating a light show
The buildup to the Coulter Celebration of Lights came quickly. With the goal of putting on the show in 2021, Adams and Myers had only a few months to put everything together.  
With the help of the Mountain Home Advertising and Promotions Commission, Adams quickly raised $30,000 before asking City Council to provide an additional $50,000 toward the purchase of Christmas lights during their Aug. 7 meeting.
Adams told the council the show would start small, with the city doing most of the lifting, but would continue to grow through donations from the public. All money received through donations would go toward expanding the light show.
The council approved his request unanimously.
Adams and Myers then reached out to the Mountain Home Chamber of Commerce for help in raising donations and funding. Myers also asked Mollie Morgan, a development officer at ASUMH, to organize the light show on campus. 
"The best thing that happened to the light show, after Dr. Myers and I kind of came up with this idea, was to bring Mollie onboard. She is, without a doubt," Adams said. "She immediately put together a design team to come up with what they wanted to put out there. She put together volunteers to help with the trees. I went out there one day, and she had about 25 women out there stringing lights." 
The show was put together with the help of up to 100 volunteers who decorated the show's trees, deer, and smaller displays. City workers put together the show's more extensive displays.
The Coulter Celebration of Lights has eight main Christmas features and uses roughly 1 million Christmas lights. To date, the celebration has used $175,000 of its funding. Most of the money was used to create the infrastructure needed to power the displays.
The remaining money and future donations are being used to expand the light show over the entirety of ASUMH's campus next year. New additions to the celebration will feature new light displays and could potentially include a Ferris wheel and ice rink for families to skate on.
"You're going to see a much larger show," said Dr. Robin Myers. "It will be more interactive, meaning that we'll have the ability for people to park their cars and get out, and be immersed in the experience through food vendors, and probably some rides. We'll have a place for kids to be with Santa Claus and that kind of thing." 
Additional sponsors have helped raise over $100,000 to continue the celebration next year. Local residents donated over $5,500 on the celebrations opening weekend.
In the name of paying it forward, the Coulter Celebration of Lights will also donate 25% of the money it receives to local scholarships for students in the Baxter County area.
"The city crew has been extraordinary," Morgan said. "And the volunteers. We have volunteers from all economic levels. I can't just say how kind the community has been and happy about this. It's brought out the Christmas spirit in everybody."
The beginning of a legacy
The legacy of Dr. Ed and Fran Coulter can be seen with your own eyes. Its red-brick walls can be touched. Its rolling hills across 140 acres can be walked upon.
You can stand in its halls. Play music and put on performances in its amphitheater. Receive a higher education in its classrooms.
It's a community college. The first two-year college in American history to have each of its magnificent buildings endowed, a feat usually reserved for larger and more prestigious halls of education.
"It's probably the craziest thing I've ever done," said Dr. Coulter as he looked out at the campus he built on a cloudy Thursday morning.
The journey to creating ASUMH's campus is filled with teamwork, risk, sacrifice, and loss. Its story began with the birth of a young William Edward Coulter Nov. 8 1943, in Chicago.
Coulter's early life was filled with hard work. At age 10, his parents purchased the Willow Beach Resort in Hot Springs, Arkansas. He would work alongside his brothers and sisters to maintain his parent's resort.
As he grew older, Coulter picked up a fondness for teaching water skiing to those visiting his family's resort. His passion would land him a spot in several national boating ads in the 50s in 60s.
His father, whose education ended at the third grade, pushed Coulter to excel at life, especially in education. The young Coulter would rise to his father's challenge.
Coulter took up leadership roles in high school as a young man, joining the Arkansas Beta Club, an honor society focused on leadership. He would also win the opportunity to represent Arkansas at Boys Nation in 1960, an American Legion event that would take young men like Coulter and former President Bill Clinton to the halls of the federal government in Washington D.C.
He would secure his spot at Quachita Baptist University with an Elks Scholarship. He would graduate magna cum laude with a Bachelor of Science in Education before enrolling in the University of Arkansas – Fayetteville's graduate program.
In 1966, he earned his Masters in Education, paving the way for him to pursue a doctorate over the next three years. He had his doctorate in hand by 1971 at the age of 28.
Yet, all of these achievements paled in comparison to one of his greatest achievements in life – his marriage to a young Fran Dryer.
"We started dating about the second or third week of our freshman year and dated for three years," Dr. Coulter said. "We married, and she worked at Quachita for one year while I finished off my degree. We both got our masters, and then she supported me while I got my doctorate. Then I turned around and supported her when she got her doctorate."
Remembering Fran Dryer Coulter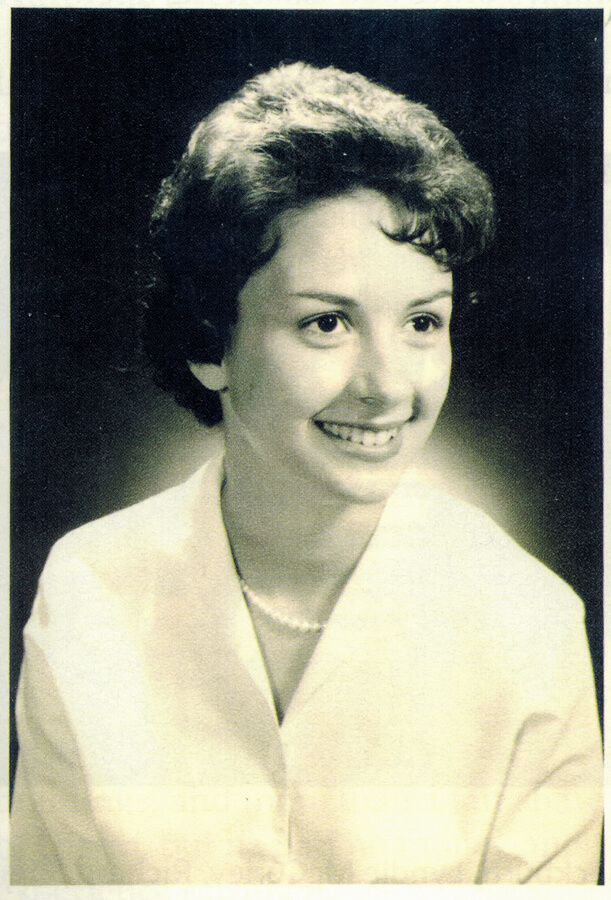 Mountain Home Arkansas was no stranger to Dr. Fran Dryer Coulter when she and her husband first moved to the city to help set up a new junior high school.
As one of the daughters of the famous Dryer clan, Dr. Fran Coulter spent her entire life in the Twin Lakes area before attending college at Quachita Baptist University.
There she pursued her passion for history while establishing a strong marriage with Dr. Ed Coulter. A bright and driven woman, Dr. Fran Coulter matched her husband's achievements by graduating summa cum laude with her bachelor's degree before obtaining her master's and doctorate degrees.
After the couple finished building Mountain Home's new junior high school, she took up the role of professor at Quochita Baptist University. At the same time, her husband settled into his new job with the university as a consultant for the Arkansas Technical Assitance Center; a department focused on helping public schools desegregate during the 60s.
They would both excel at their jobs. Fran would receive her full professorship while Ed would become the school's vice president for administration for the next 20 years.
"She was at the heights of her profession," Dr. Ed Coulter said. "She was recognized in the state. Full professorship. She was doing oral histories and writing."
Together the happy couple traveled the world, visiting all of the places and historical sites she gave lectures on to her students. During this time, the couple would have three children together.
"She used to tease that she stayed married to me because she felt safe with me taking her around the world," said Dr. Ed Coulter as he reminisced on his travels.
Fate would call in 1995 after Arkansas State University asked Dr. Ed Coulter to become chancellor and take Arkansas State University – Mountain Home Technical College to the next level by building a new campus. The task was difficult, but Ed Coulter had the experience to pull it off.
Fran would sacrifice "the mountain she had climbed" by stepping away from the position she had earned at Quachita State University and returning home to the small American town she had grown up in.
"It was walking away from the mountain she had climbed to come here," Dr. Ed Coulter said. "Academically, coming to a two-year school would be seen as starting over again. But the key to that is that she loved the folks here. She was instrumental in helping create the guidelines, the programs, the policies."
Over the next few years, the Coulter's would secure funding for the campus's 140 acres and buildings. They would break ground with Governor Mike Huckabee in 1998 to celebrate the first phase of construction for the campus's buildings.
By 1999, ASUMH achieved an attendance of over 1,000 students for the first time. Those students would march from their old campus to the new one Jan. 11 2000.
Mountain Home's dream of having a university had finally come true. The Coulter's victory would be short-lived.
In 2001, Dr. Fran Dryer Coulter would pass away after battling cancer. The Fran Coulter Honors Program was established in her honor in 2003.
"It's a very special program," Dr. Ed Coulter said. "At graduation, the people that do the Fran Coulter Honors Program wear a special medallion."
A legacy of stone and lights
Life would go on after Dr. Fran Coulter's death.
As chancellor, Dr. Ed Coulter would continue to expand the universities campus by building the Health Sciences building and the Vada Sheid Community Development Center. Coulter would also join the American Cancer Society, working his way onto the organization's board of directors.
After proposing to her on his boat, he would marry Lucretia Coulter, a former policy adviser for Governor Mike Huckabee. They have been married for 14 years.
"I've been blessed twice," said Dr. Ed Coulter about his life. "I was going to propose to her in my boat, and I had the tape and everything in my boat. It was pouring down rain, and I left my keys in my truck. So, we're sitting down in the boat. I lost my cups, too. I had a bottle of wine, and she thought we were celebrating her birthday. So we're chugging the wine, and I go to turn on the tape. No key. So, I start singing 'You Light Up My Life.' I'm not known for my singing ability."
In 2012, after 17 years at the helm of the campus he built, Dr. Ed Coulter would finally retire from a life of educational service.
Under their guidance, ASUMH has become a shining beacon in Mountain Home and Baxter County. With its red-bricked colonial-style buildings, the school serves as one of the town's main meeting spots, with thousands of people visiting it each year.
Yet, instead of taking a victory lap over their achievements, the Coulter family remains humble. While they said they want Fran Coulter to be remembered in the twinkling Christmas lights of ASUMH's campus, another of their goals is to pay forward their blessings to a community that has supported their efforts from day one.
It's a lesson the Coulter's have been teaching their nine grandchildren during the Christmas holidays.
"It's like when we gave money to our kids at Christmas," said Lucretia Coulter. "The next year at Christmas, they have the opportunity to report on what they want to donate to, whether they give it to charity or pay it forward to someone else. It's about showing them that it's more blessed to give than to receive."
The Coulter Celebration of lights runs from Nov. 22 to Dec. 27 from 5:30 p.m. until 10 p.m. each night.
"This is the most wonderful community of other people who donate and support," Dr. Ed Coulter said. "Folks need to realize that this is the most generous, giving community, and they supported us in creating this university, and this is part of our way of giving back and saying thank you for the support."
Photography by Alison Fulton / MHO.