Members of Danfoss, formerly Eaton Hydraulics, and the Mountain Home Chamber of Commerce came together Thursday afternoon to celebrate the company's full transition into the Danfoss Power Solutions family after its sale in August 2021.
The event was attended by workers from the Danfoss plant and several political leaders from Baxter County and the surrounding areas.
"I want to take a second and thank all of my employees," said Brian Ross, plant manager for Danfoss's Mountain Home factory. "These folks are the lifeblood of this place. Without them, it would not function."
Eaton Hydraulics has been a staple of the Mountain Home area since 1975 and focused on helping its customers effectively manage electrical, hydraulic, and mechanical power more reliably, efficiently, safely, and sustainably through its manufacturing processes.
Originally founded in 1911 by Joseph Eaton, Eaton Hydraulics expanded to over 170 locations worldwide and boasted over 85,000 employees, including those that work in Mountain Home. The company posted profits of over $1 billion in 2020 as it entered negotiations for a buy out with Demark-based Danfoss.
Danfoss was founded in 1933 by Mads Clausen in his parents' farmhouse in Nordborg, Denmark. Since then, the business has grown from a solo enterprise into one of the world's leading suppliers of innovative and energy-efficient solutions.
Born into a farming family in 1905 on the island of Als in Denmark, Mads Clausen ran the company for its first 30 years from his childhood bedroom. Danfoss' headquarters are still located right next door to the family farm, which now houses the Danfoss Museum.
His family originally wanted Clausen to carry on the family business, but his fascination with engineering won over. Inspired by his great-grandfather, who built pumps and spinning wheels in his workshop, Clausen's passion for mechanics and the value of good craftsmanship grew stronger.
In 1927, he earned his engineering degree and, in a fateful move, started working with Brødrene Gram, designing components for refrigeration systems.
After establishing his company in 1933, Clausen continued to press forward with innovative manufacturing designs and ideas while also helping Europe reconstruction through the Marshall Plan after World War II.
He died in 1966 with over 300 patents to his name. Danfoss has continued to embrace Clausen's innovative spirit throughout its 85 years in business.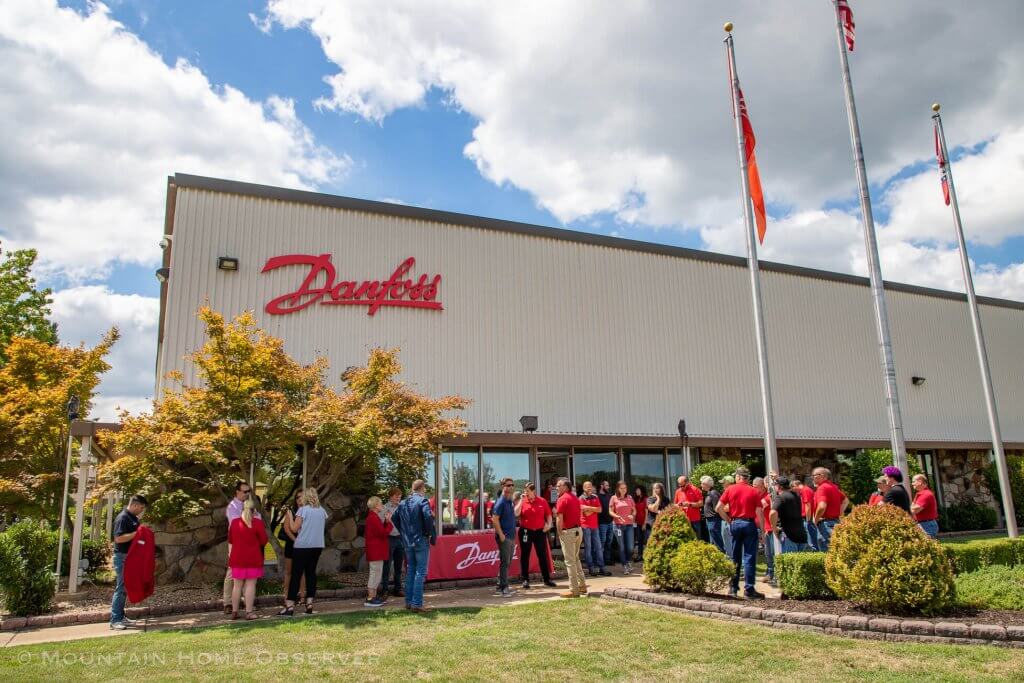 "I probably have never been as excited as I am right now about the future of this business," Ross said. "What Danfoss has already shown me is that they have an absolute commitment to being the best in class. Not only in customer service but in technology, innovation, and growth. What that means for us, what we're excited about, is jobs. That means job security for all of these folks. That means jobs available out here for the community."
Danfoss officially purchased Eaton Hydraulics in Aug. 2021. Both companies are hydraulic manufacturers, and the union has allowed the company to have the broadest selection of mobile and industrial hydraulics products and solutions available in the market. "The completion of this sale marks another milestone in Eaton's continued transformation into a higher growth company with more earnings consistency," said Craig Arnold, Eaton chairman and chief executive officer. "This transaction creates considerable value for our shareholders and enables our hydraulics employees to be part of a company with a strong commitment to the hydraulics industry."