The wait is over, and the results are finally in for Baxter County's primary run-off elections.
Mountain Home Police Officer and Baxter County Justice of the Peace Kevin Litty has secured his new job as Baxter County Judge after defeating Brian Plumlee by 292 votes.
4,142 total votes were cast. Voter turnout for the primary runoff was 14%.
Plumlee led Litty 3,427 to 2,714 on primary election night, May 24 but failed to secure more than 50% of the vote needed to win. After the run-off election was announced, Plumlee lost ground to Litty during the following weeks after Litty received an endorsement from current Baxter County Judge Mickey Pendergrass.
Litty currently serves as Justice of the Peace in District 10 of the Baxter County Quorum Court and will be replaced by tonight's other big winner, Shannon Walker.
In her race for JP District 10, Walker managed to edge out Sheila Wingard by 142 votes. Walker was the front runner on May 24 before heading into a run-off election with Wingard.
Baxter County Judge Kevin Litty
Following Judge Pendergrass's retirement announcement earlier this year, Litty threw his hat into the race as one of the favored members of the Quorum Court to take up the mantle of County Judge.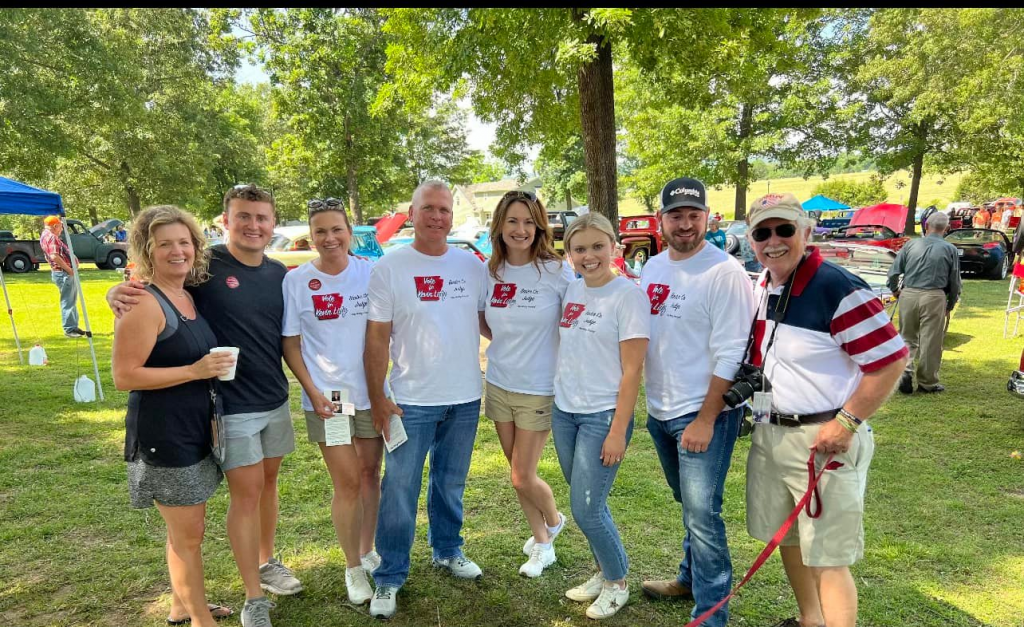 Litty has a passion for county government and has served as Justice of the Peace for the Baxter County Quorum Court for the last six years. During this time, Litty has worked closely with various county officials and has experience in facing the challenges of county government.
Litty has a long history in Baxter County, with a unique combination of business and law enforcement experience. He and his brother formed 2L Cattle Company in early 2000. Running the company has taught him the importance of budgeting and forecasting. As a Mountain Home police officer for 28 years, he has worked with people and the laws protecting the city. He will be retiring from his lifelong career as a police officer to devote his time to his new role as Baxter County Judge.
Litty's Quorum Court experience includes committee work on the Budget, Personnel, and Building Committees.
He is married to Brandee Litty and has two sons, a daughter, and five grandchildren.
Justice of the Peace Shannon Walker
Walker is a 1992 graduate of Mountain Home High School and a Baxter County native. She has been married to her husband, Luke Walker, for 29 years. Luke currently serves on the school board for Cotter Schools, and together they run a full-time farm operation. They have two grown sons.

Walker is the President of the Baxter County Farm Bureau Board of Directors. She is also an active member of the Whiteville Baptist Church, serving as a pianist.
Walker states, "I'm excited to take on this new venture as a Quorum Court member and serve the citizens of not only District 10 but all those in my home county."
Other Baxter County results
In other election news, Republican incumbent Patrick Smith beats his opponent, Daniel Carly by 26 votes in the race for District 2 Constable.
In the Viola School Board race, which covers a portion of Baxter County, Dustin Cotter leads Derek Winter 45-32.
Provisional ballots will be counted today, June 22, at 2:15 p.m. at the Election Commission's headquarters in downtown Mountain Home.
UNOFFICIAL 2022 BAXTER COUNTY PRIMARY RUNOFF ELECTION RESULTS
Basic Numbers
Ballots Cast – 4,142
Voter Turnout – 14%
COUNTY
2022 Baxter County Judge Results – Litty Wins
Plumlee – 1,917 – 46.46%
Litty – 2,209 – 53.54%
REP JP 10 – Walker Wins
Walker – 250 – 69.83%
Wingard – 108 – 30.17%
REP Constable 2 – Smith Wins
Carley – 160 – 46.24%
Smith – 186 – 53.76%
---
PREVIOUS MAY 24 PRIMARY ELECTION RESULTS
Baxter County Sheriff – Sheriff Montgomery Wins
Campfield – 1,748
Pate – 725
Montgomery – 5,344
REP JP 11 – Chapman Wins
Canta – 379
Chapman – 400
REP Constable 8 – Tyler Brown Wins
Brown – 337
Sandland – 259
REP Constable District 11 – Frankie Baker Wins
Wood – 350
Baker – 409
SCHOOL BOARD (BAXTER COUNTY RESULTS ONLY)
MOUNTAIN HOME
SEAT 2 – Bob Chester Wins
Chester – 2,998
Knox – 2,815
MOUNTAIN HOME
SEAT 4 – Barbara Horton Wins
Horton – 3,388
Ramsey – 2,584
NORFORK
SEAT 4
Southard – 295
McGowan – 534
VIOLA
SEAT 2
Cotter – 48
Love – 28
Winter – 44
MILLS SCHOOL TAX (BAXTER COUNTY RESULTS ONLY)
VIOLA
For – 40
Against – 91
NORFORK
For – 342
Against – 510
COTTER
For – 401
Against – 357
MOUNTAIN VIEW
For – 11
Against – 23
CALICO ROCK
For – 7
Against – 10