Update: MHPD has updated information regarding the student involved in this case. According to MHPD, the student is 17, not 18 as originally reported. The article has been updated to reflect the new information.
Mountain Home High School Career Academies teacher Madison Harned of Mountain Home has been arrested this weekend, following accusations of inappropriate contact with an 17-year-old male student.
She faces three felony counts of second-degree sexual assault.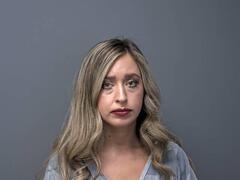 Madison was arrested by the Mountain Home Police Department after officers were contacted by Mountain Home Public Schools on Friday. During the officer's investigation, it was discovered that Harned had allegedly engaged in multiple instances of inappropriate sexual contact with the 17-year-old student.
MHPS lists Harned as a Career Technical Education Business Instructor at the high school. Mountain Home Public Schools Superintendent Allyson Dewey released a statement Friday following the arrest.
"The safety and wellbeing of our students is of the utmost importance to the district. We're working closely and openly with law enforcement as this investigation unfolds, and at this time we are not able to provide further comment," said Dewey.
Harned was booked at the Baxter County Detention Center Friday evening and was released shortly after posting a $50,000 bond.