The Veterans of Foreign Wars Hoevel-Barnett Post 1341 in Bull Shoals will be hosting its first-ever "Mission to Mend" event to draw attention to PTSD on Feb. 5 from 11 a.m. to 9 p.m.
"Mission to Mend" is a visual and audio art show that Bull Shoals' Genia Scarberry is organizing. All proceeds from the event will be donated to the Post's Veterans Relief Fund.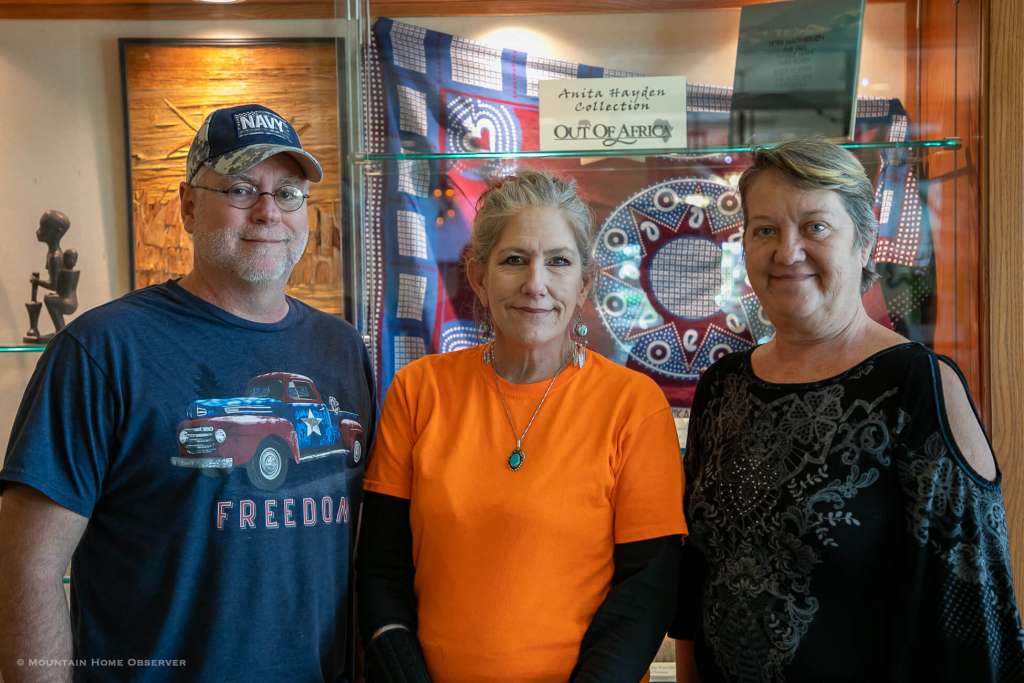 "These guys went through a lot for us to be able to be where we are now, to be able to do art," said Genia Scarberry.
Scarberry, an advocate for PTSD awareness, comes from a long line of veterans, including her father and uncle, who served in the Air Force and Navy. Last year, she approached Bull Shoals Post Commander Gary Barth about setting up "Mission to Mend" for Feb..
Scarberry, who helped Mountain Village and Bull Shoals Cavern become a historical district with Arkansas Heritage, has held a similar event called "Art Stock" while living in Midway in 2018 and 2019.
"I've done two other ones before," Scarberry said. "We were going to do a third, but of course COVID hit, and I've moved into Bull Shoals, and I help with the 1890s Mountain Village and the VFW's right there. My boyfriend and my father were veterans, so what better cause to do the PTSD awareness for."
The Hoevel-Barnett Post is actively involved in solving problems for veterans in the community. The Post regularly makes food baskets for veterans and is currently looking into helping those with PTSD receive an emotional support dog.
More recently, the Post assisted a World War II veteran in making the transition to assisted living at Southern Meadows in Mountain Home.
"We used money to rent a truck to be able to move him and got volunteers to do it," said Post Commander Gary Barth.
"Mission to Mend" will be hosting 27 visual artists and 10 audio artists on Feb. 5. Tables for the event have filled up quickly, with no slots remaining.
Live music will run for the entire day, starting at 11 a.m. and including music from Pattyann Peal, Robert Wilson, Clint Dinkins, Tim Critch, Dylan Kane, All Jam, JM Kemp, and Crunch Kings.
The visual art lineup includes Alison Lowe, Once Broke Studio, Anita Scott, Poe Art, Two feathers Sports, The Messy Years, Christina Kathryn Peel, Joseph Robinson Cutlery, and more.
Hot Springs Cherry Ogburn and her Cherry's Murder Mystery Show will also be in attendance at the Saturday event.
"She also works for the Renaissance Festival," Scarberry said. "She's bringing her art, and she's about to bring in flyers to advertise her murder mystery show."
Promotional art and flyers for "Mission to Mend" were made by Gretchen Holster, Ruben Drewery, and Wesley Nesbitt.
Tim Tibbs (Big T.) of "T Time" with 105.5 KPFM Twin Lakes Radio assisted Scarberry with advertising for the event.
"We sure appreciate him and all he's done for us," Scarberry said.
The Post will also be serving a $5 meal at the event and will feature pulled pork, coleslaw, and baked beans. A live auction, raffle, and pool tournament are also on the day's lineup for families looking to come out and have a fun time.
Barth will also be giving away gift certificates for the Post's walleye fish fry dinners. Feb.'s dinner is set to be held on Feb. 4.
"We have a Walleye fish fry from 4 p.m. to 6 p.m. in the evening on the first Friday of the month that's $12. So it'll be like two gift certificates for two free Walleye dinners," Garth said.
For more information on "Mission to Mend," please call (870) 615-1493.