Editors note: Chris Fulton is a veteran of the U.S. Navy, serving from 2008 to 2013 as cryptologist before receiving his honorable discharge.
There are some new faces at Mountain Home's U.S. Army Recruiting Station following the new additions of Sergeant First Class Chance Hendrix and Sergeant Samuel Bentley.
Hendrix has replaced Sergeant First Class Matthew Hanson as the recruiting station's commander, while Bentley is in the process of replacing Sergeant Joe Parks in his role as a recruiter at the station.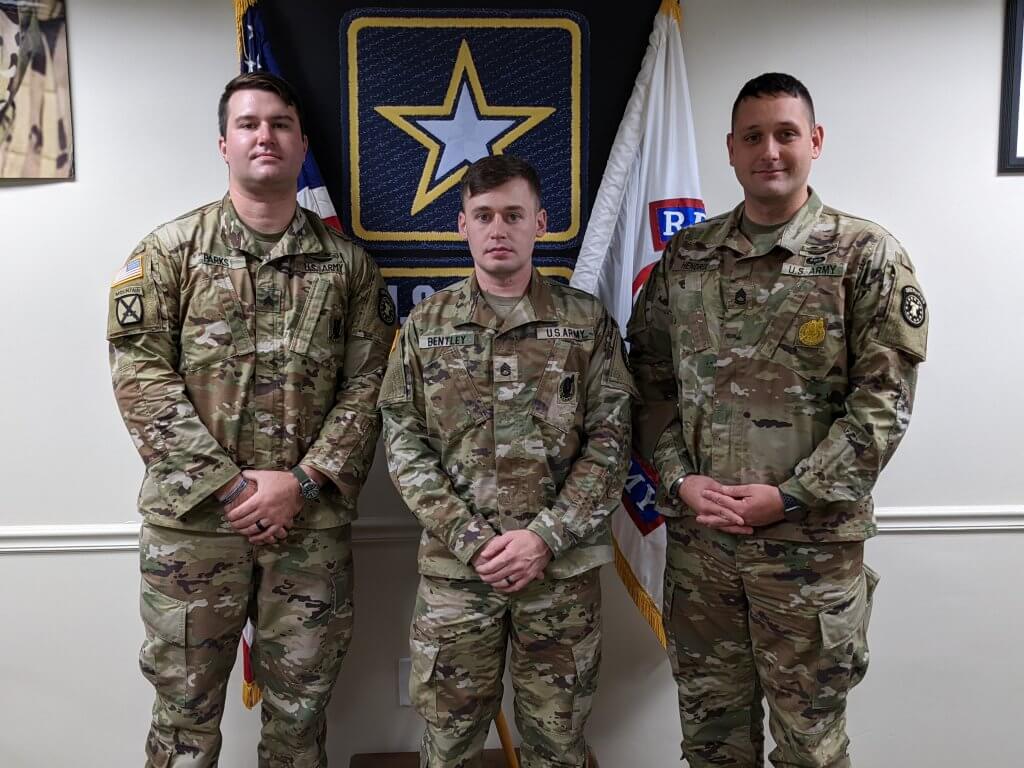 "Everyone has got their own reasons for joining," Hendrix said. "For me, it was the action and the adventure, to get out of my hometown and experience something new. When I enlisted, I had it in the back of my mind that I was only going to do one term and get out. And here I am 14 years later, doing way more than one term."
An Arkansas native, Hendrix first joined the U.S. Army in June of 2008. After completing basic and advanced training, he joined the ranks of the 82nd Airborne as a paratrooper, deploying to both Iraq and Afghanistan.
He takes over Mountain Home's recruiting station after previously serving two other terms as a recruiter for the U.S. Army. He has been stationed in both North Carolina and Pennsylvania before returning to Arkansas.
He was promoted to Sergeant First Class in 2021.
"I like helping people," Hendrix said. "You know, there's obviously pros and cons to every job, but as a recruiter, you help shaped the force of tomorrow. And with every enlistment that we put in, that legitimately changes lives. I've tried to put my personal feelings into every applicant we have, and I try to change everyone's lives for the better."
While Hendrix has already assumed his role as Station Commander, he is still overseeing the process of getting Sergeant Bentley up to speed on his recruitment duties.
An Eastern Kentucky native, Bentley joined the Army back in 2015 as a heavy equipment operator. Bentley said he joined the Army back then to escape poverty. Bentley is considered to be a unicorn amongst his peers in the recruitment process, as he had all of his paperwork completed and ready before he even sat down with a recruiter.
He is serving as a first time recruiter and is replacing Sergeant Parks, who will be returning to his duties as a heavy equipment operator as well. Parks also served some time as an infantryman before switching to his current job.
"I'd say, just be successful as far as helping to bring the Army to the people here that need it, and the Army that needs them," Bentley said.
The U.S. Army is currently facing difficulty in recruiting new soldiers into its ranks. A July memo revealed that the Army only brought in 466,000 soldiers for the previous fiscal year, a full 20,000 soldiers below what they needed to maintain projected force readiness levels.
And they're not alone.
The entirety of the U.S. Armed Forces is facing difficulty in recruiting following several controversies over the past few years, including the disastrous withdrawal of troops from Afghanistan, the mandatory requirement to receive the COVID-19 vaccine, the interjection of modern politics into the military, and heavy competition from the private sector.
To combat low turnout, the Army has introduced some new incentives ranging from higher enlistment bonuses to additional bonuses for those soldiers who are willing to ship out quickly. Hendrix said that the Army had increased its enlistment bonus up to a maximum of $50,000.
The size of each bonus is usually determined by which job that soldier signs up for and what number of years that soldier agrees to serve for. Contract options usually run between two to six years depending on the needs of the Army.
First year soldiers start out making $1,733 per month, but also receive free medical and dental while under contract. They also receive 30 days of paid vacation, alongside free housing and meals.
Benefits for life after the U.S. Military are also a big draw for recruits and can range from no cost/low cost healthcare, and access to special loans.
Today's recruits also receive tuition assistance to the tune of $4,000 per year on top of their Post 9/11 GI Bill benefits, which covers 100% of tuition and fees for a college education for 36 months. Those using the GI Bill are also entitled to a $1,503 monthly housing allowance and a $1,000 per year stipend for books and school supplies.
For those soldiers that make it to retirement, they can also look forward to one of the most competitive retirement plans in the country. Hendrix said the Army is currently offering 2% of base pay per year, up to 20 years, plus a 5% match on whatever soldiers decided to invest in their TSP savings accounts.
He said that an 18 year old who serves a full 20 years, while maxing out his TSP savings account, can expect to retire with roughly $1.7 million based on average investment return rates.
"I see a lot of motivated young people that have options, and the Army is in a war for talent," Hendrix said. "I can feel that when we do start enlisting a lot more people here, that everyone here is going to make the Army a little bit better."
Mountain Home's U.S. Army Recruiting Station is located at 1310 Highway 62 West. For more information, please call (870) 425-0040.