Mountain Home's one and only Google photographer has opened a new computer repair business after receiving a flurry of requests from residents in town.
John Fraser, the owner of Mountain Home Marketing, is celebrating the launch of Mountain Home Computer Repair.
The new computer repair service offers same-day pickup for damaged or nonworking equipment, machine restoration, virus removal, and assistance installing new computer hardware.
"I've always had my listing for Facebook as Mountain Home Marketing and Computer Repair, but I never got calls for the computer repair," Fraser said. "It was all the other stuff – so, I just started taking calls. I optimized the Google listing sites, specifically for Mountain Home Computer Repair, and within a month of doing that and getting regular calls to the point where I went out there every day."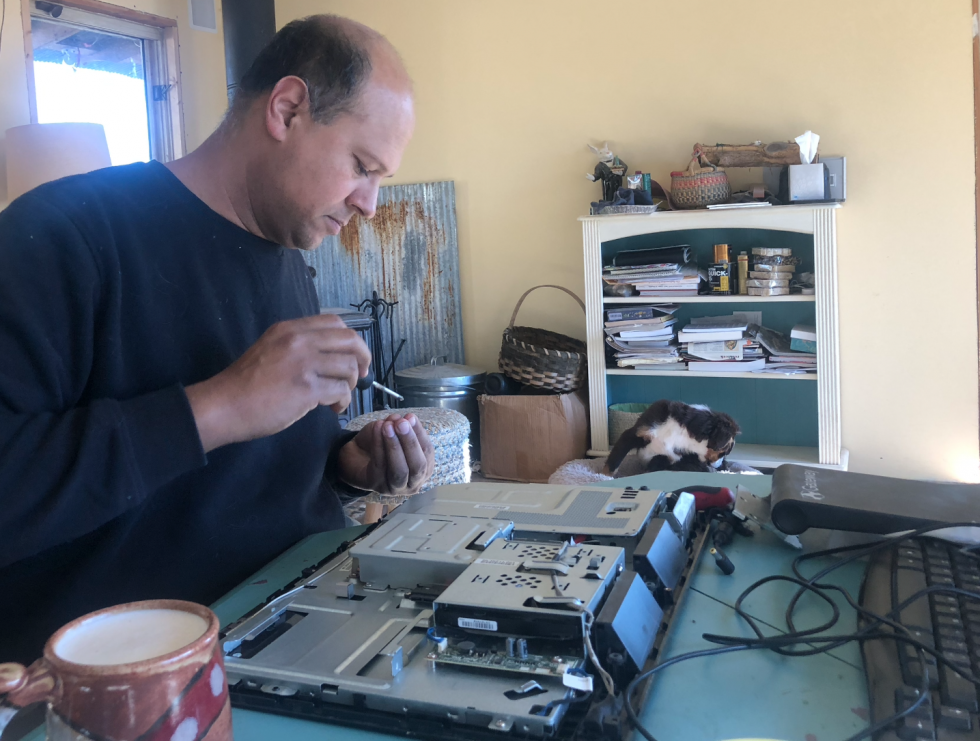 Fraser is the only Google StreetView trusted photographer in Mountain Home, allowing him to take 360-degree camera shots of businesses to add to Google Maps and StreetView. The process for being added to StreetView takes about an hour.
To date, Fraser has provided services for businesses like Nature's Way, B&B Trailer Sales, Buncle's Brick Oven and Brew, and Hank's Fine Furniture.
Fraser's status as a trusted photographer with Google lets him input businesses' correct hours and locations, letting Google know the information is accurate. Coupled with the panoramic photos on StreetView, this allows Fraser to help his clients get to the top of the front page of Google, often doubling their business within a year.
He also said he helps businesses with branding on Google, allowing them to compete with larger businesses for the top spot in the search engine.
His move into the computer repair markets came after Sweet 5 Electronics closed for business. Initially, Fraser said he tried to work with several former employees at Sweet 5 Electronics, but those repairmen decided to branch off into their businesses.
"I actually got all of them together," Fraser said. " I said, I've got the Google marketing background. Let's get together and do something together. Well, one wanted to open his own place. Another thought it might be a good idea, but he didn't really know me, and he ended up branching off doing something."
While his initial plan didn't pan out, Fraser pressed on and eventually got Mountain Home Computer Repair up and running.
Fraser said the volumes of calls he was taking after opening were so much that he nearly burned out within the first week.
"I burned myself out the first month," Fraser said. "Kelly is like, what are you doing? This is your own business. You can run this any way you want. Why don't you batch your stuff because I still need help on the farm."
Fraser took his wife's advice and began bundling his pickups and returns, giving Fraser more time to work on his other businesses and farms before settling in to work on computers during the afternoon and the evening.
Since Fraser's repair station is located on his private farm, he offers a pickup service, usually on Mondays, for a flat rate of $35 and an additional $2 per mile for those living outside of Mountain Home.
He charges a flat diagnostic fee of $50 to find out what's wrong with a customer's equipment.
"I pick up whatever work needs to be done on Monday, and between Monday night or Tuesday night after the farm stuff, I'll stay up to midnight working on it," Fraser said.
Mountain Home Computer Repair offers a wide range of services, including computer repair, machine restoration, virus removals, new hardware installs, board repairs, data backups, and password breaks for those locked out of their computers.
Fraser also said he upgrades hard drives for those seeking more storage space on their computers.
"People want their data," Fraser said when asked about viruses and computer lockouts. "They want their photos, and they want their tax returns. There was a guy up north that had 15-18 machines. His brother passed away. Kind of a hermit. This guy was a Stanford grad; then he went over to Oxford as a computer science major. He had passwords on the BIOS. He had passwords inside Windows – and they were looking for a will. But we found all of his personal documents."
In 2015, Kelly asked John to move to Arkansas to complete her dream of owning a farm. The couple now lives on 30-plus acres high in the Ozarks, a few miles from Missouri.
Their farm is entirely off-grid, being powered by 20 nickel-iron batteries, made famous by Thomas Edison. Fraser built a network of antennas and cellphone boosters to stay connected to the outside world, allowing him to run his online business despite his remote location.
To help fund their farm, the couple began a YouTube channel and website that chronicles the ups and downs of creating an off-grid home. While the move was a change for Fraser, he said it was the best thing to happen in his life.
He said he's learned how to be resilient and how to take care of his own home.
For more information on Mountain Home Marketing and Mountain Home Computer Repair, please visit https://mountainhomemarketing.com/computer-repair/ or call (870) 495-2800.