Brace yourselves for more changes, Mountain Home. A community staple has decided to shake it up.
Nature's Way Natural Health in downtown Mountain Home is officially no more. The small business has rebranded and completed a six-month shift away from the grocery business to focus on selling products around living a natural lifestyle.
To celebrate this change, Nature's Way Natural Lifestyle will be hosting a grand reopening at its downtown location with the Mountain Home Chamber of Commerce on Thursday at noon.
A 28% discount on lifestyle products will be offered on Thursday.
"It's more of a symbolic gesture on our part, saying, hey, we're now ready to really roll this out," said Duncan Clayton, co-owner of Nature's Way. "We changed the signage on the store. We are no longer a health food store on the square. We are a health and natural living destination."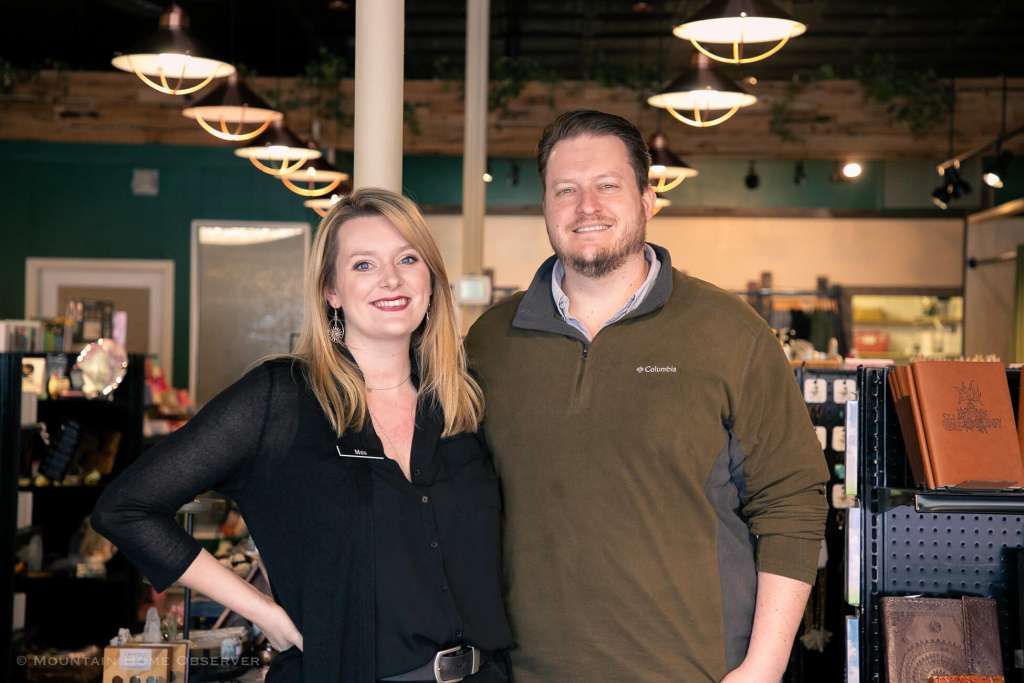 Founded in 1978, Nature's Way has seen its fair share of changes throughout its 44 years of being open. In the 90s, the store was bought out by some of the store's employees before finally landing in the hands of Jack and Ruth Anne Clayton.
Under the Clayton's leadership, the store grew and expanded into what residents enjoy today. In 2015, the store found itself changing again as Duncan Clayton joined his parents at the store, allowing them to transition into retirement. He would later be joined by his wife, Meagan Clayton, in running the store in 2018.
"I actually started in May of 2015 after quite a few years of discussion and talking it through and planning," Clayton said. "I moved here to take on board the business and give my parents the opportunity to retire. Prior to this, I was a senior sales forecaster for Starbucks for their Walmart and Sam's Club business. I was in the vendor community; my background is in operations and logistics."
The decision to move away from the grocery business was not an easy one for Duncan and Meagan, who began researching the market in Mountain Home last year in preparation for making changes.
During a discussion on why they decided to rebrand and shift away from groceries, the couple revealed that the decision came down to three factors: small spaces, big box stores, and COVID-19.
Unlike other grocery stores, which usually rest inside 10,000 square foot spaces, Nature's Way only has 2,500 square feet to work with, making an expansion of the grocery section difficult without encroaching on other parts of the storefront.
"Natural food has grown so much," Clayton said. "There's so much variety out there, and you're seeing it in mainstream channels. We're just like, do we want to try and compete on this small footprint we have, or can we utilize it to bring something new to the community?"
The biggest reason for the shake-up isn't because of the store's square footage. It's from the encroachment of big box stores, which have begun moving in on the organic health and lifestyle movement after COVID-19 jump-started an interest in healthy living for many people around the world.
Now, the very items that made Nature's Way unique as a grocery store have found their way onto the shelves of Walmart and other grocery stores.
The couple said Nature's Way would not have left the grocery business if there were no other organic grocery options in Mountain Home.
"We think COVID brought on a change as far as people really focusing on their health with the whole COVID pandemic," said Meagan Clayton, co-owner of Nature's Way. "So, more and more, we're starting to realize the benefit of going towards natural health, and that trend has increased, and I think a lot of businesses have picked up on that."
So, what does the rebranded store have to offer?
For starters, the Clayton's want to ensure residents know that the store's vitamin and supplement section is still there and is not going away.
They said they take pride in their staff, who receive training in how to advise customers on what products would be best for them. Meagan said Nature's Way works with local doctors to provide their patients with the best goods.
Nature's Way has a former pediatrist, a former nurse, and a herbalist-in-training on staff.
"We work really hard," Meagan said. "Some of us have medical backgrounds, some of us don't. But we've put in the money and the time to get the proper training, and we've built a wonderful relationship with the medical community and our area. Doctors know we aren't afraid to say no to somebody. We're not just going to sell them a product because we want this sale. We'd rather get a comprehensive overview of their health and work with their doctors to make sure that there aren't any interactions."
In addition to the store's supplement section, Nature's Way now features home goods, aromatherapy, crystals, health and beauty supplies, and clothing for all ages. The store also features goods for relaxation and meditation.
They will also be offering a massage therapy service through Jeremy Hodges, who will have a back room in the store. The store has also received some renovations as well as new fixtures.
Some food and drinks are still offered, such as freshly ground nut butters, local eggs, local raw honey, Neighbor's Mill Bread, and health-conscious beverages. Local tea and coffee are also still sold by Nature's Way.
"We found distributors that solely only represent brands that meet the same kind of standards that we have for the store," Clayton said.
Brands for the store range from smaller Etsy producers to more recognizable names like Duke's. Clayton said he and Meagan only focus on stocking brands that match their family's values.
Many of the products come with a backstory and are made through sustainable and eco-friendly means. Many of the brands Nature's Way sells also donate to causes like sex trafficking prevention and other popular causes.
They put a heavy emphasis on selling local goods whenever they can.
"We research who we're buying from, what are these companies standing for," Clayton said. "The mantra is that anything you purchase is not just a good product, but it's something that makes you feel good about purchasing. Because every single product has some story behind it, be it that the company has a charitable arm, their proceeds go to charity, their product is upcycled or recycled."
For more information on Nature's Way Natural Lifestyle, please call (870) 425-7677.
Photo Gallery: