With summer rapidly coming to an end, one of Mountain Home's youngest professional artists is opening her studio to the public for one last time before returning to her studies in Fayetteville, Arkansas.
Ava Obert, the youngest person to have art displayed in Arkansas's Governor's Mansion, will be opening the doors to her studio, The Art of Ava, again on Aug. 12 and Aug. 13 from 9 a.m. to 6 p.m.
"It's cool. I have at least one piece of art from every era of what I've been painting," said Ava Obert. "Like when I was painting with Duane Hada, I still have a duck stamp, and that's not at all what I paint now. So, it's fun getting people to come in here and see everything."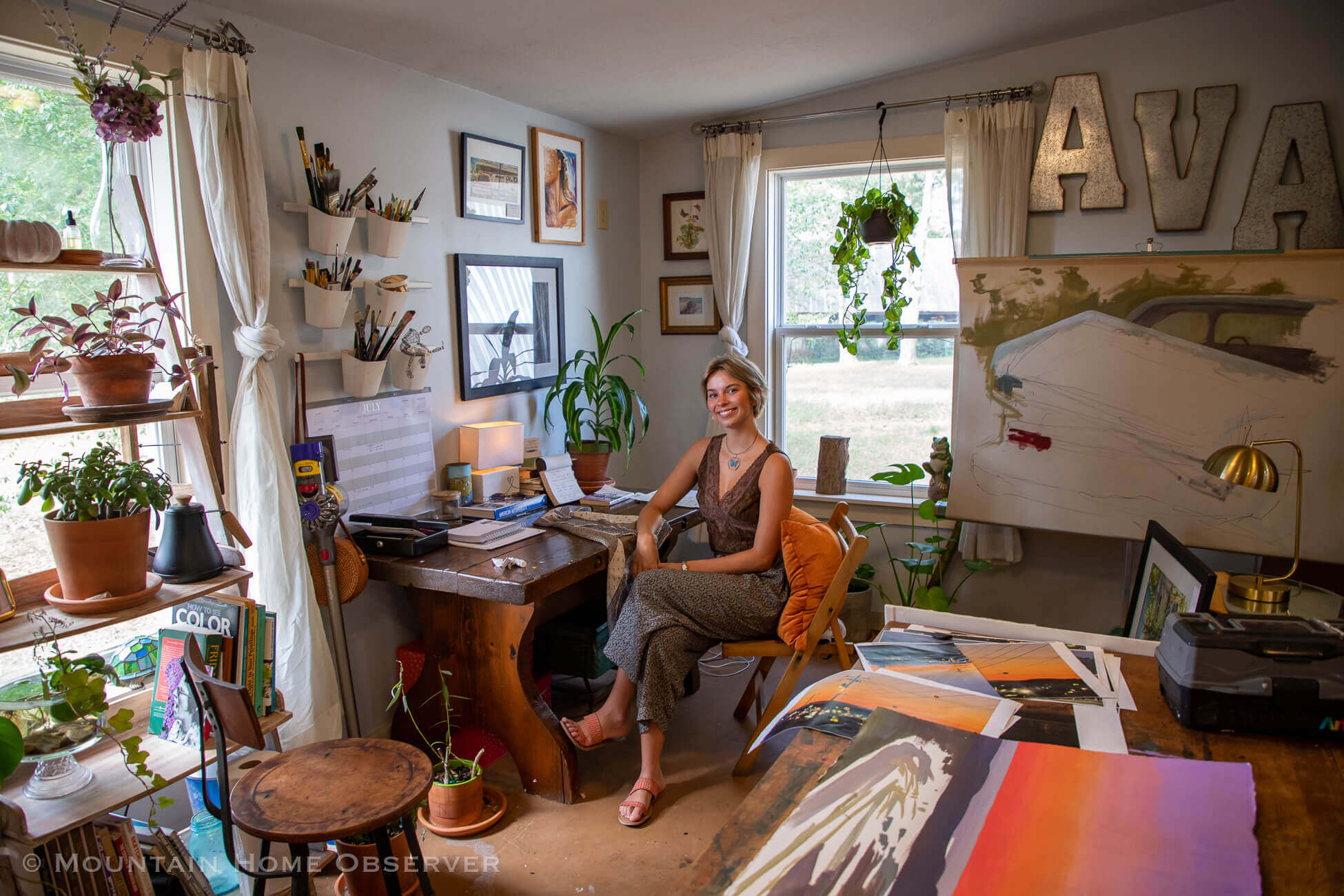 Over the past few years, Obert, a Mountain Home native, has quickly become one of Arkansas's fastest-rising stars despite her young age. She was the winner of the Best in Show for the Junior Duck Stamp in 2014 and 2015. Her art has also been displayed at the Illinois River Salon and The Center of Art and Education in Van Buren, Arkansas.
Last year, Obert celebrated her biggest accomplishment after 50 pieces of her artwork were hung in the Governor's Mansion in Little Rock, Arkansas, making the 19-year-old the youngest artist ever to display their artwork in the Natural State's seat of power. 
A Plein Air painter by trade, Obert began taking lessons in painting and sketching at the age of eight, showing natural talent and often quickly picking up on advanced techniques. One of the first people to notice her skills was Duane Hada, another Mountain Home artist and Arkansas Outdoor Hall of Fame member that operates out of his Rivertown Gallery in Mountain Home.
Hada's first experience with Obert came after he received a phone call from the Baxter County Library, which notified Hada of the young girl's talents. Hada quickly took her under his wing, instructing her on what he calls "drawing from the right side of the brain."
Obert spent six of her early years under Hada's tutelage.
Those early years with her mentor also introduced her to several other famous artists in the area, like John Lasater and Jason Sacran. She even caught the eye of world-renowned Italian artist Israel Herschberg during a 2017 trip to the JSS School of Art in Civita, Italy.
Today, Obert is enrolled in the University of Arkansas in Fayetteville, where she continues her art studies while also running her second art studio at Mount Sequoyah.
"It's hard to balance painting on my own time and then doing school too," Obert said. "When I'm doing art all day with them, I just want to go home and just veg out and not paint. I'm hoping this year to make more time for that because I got a new studio in Fayetteville a couple of months ago at Mount Sequoyah and it's really cool. I think it's going to help me because there's a whole community of artists out there."
While Obert now has two separate art studios to manage, the young college student said she still plans to take her junior year as an exchange student, visiting countries like Greece and France to further expand her skills as an artist.
"I hope to be in Athens, Greece, for one semester and then Leon, France, for Spring," Obert said. "In the summertime, they do a full-on tour, and you get to visit 12 different countries and stuff. That's the dream abroad trip."
As a painter, Obert gravitates toward a style called Plein Air, which is the act of painting outdoors and was created by Pierre-Henri de Valenciennes during the late 1700s and early 1800s. 
Since she first picked up a brush, she has been fascinated by power lines, junkyards, and alleyways and how their lines contrast with the lighting and shadows.
Her favorite alleyway is located across the street from Cove Coffee in downtown Mountain Home, Arkansas. She can often be found there behind the brick-and-mortar of Jeans Good As New painting.
Because of this, her art style trends more modern despite her classic technique, though she has several classically styled paintings that are more focused on single subjects or nature. Pricing for her art ranges from a few hundred dollars for smaller pieces to thousands of dollars for larger, more difficult paintings.
The Art of Ava is located at 1512 Pinetree Lane in Mountain Home. For more information, please contact Obert at (870) 421-9087.