Mark Bertel's love letter to the Spring Valley Motel is finally complete!
The old motel, which had fallen in serious disrepair over the years, now stands fully remodeled and has been transformed into an apartment complex for transient workers here in Mountain Home.
The complex, which has been renamed the City Center Commons, features two larger upstairs apartments, six "city-friendly" lofts, and an additional six studio apartments.
"We designed them to feel like you'd be in downtown Manhattan," said Mark Bertel, owner of the Dels Corporation. "I know that sounds really strange, but you'll see when I show you the ceilings. We left the ceilings exposed, and that's kind of when we came up with [city theme]. We just wanted to feel like this is themed around the city, even though we're in a small town."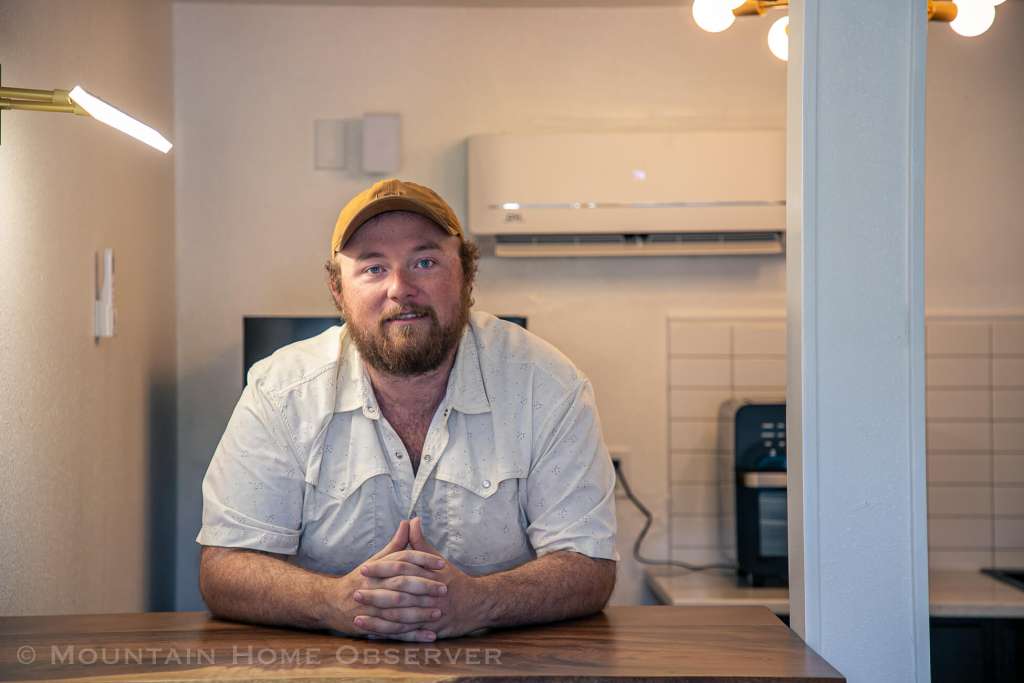 And the city theme stands out.
Each of the two buildings at the City Center Commons has been renovated in a modern industrial design with black paint, white walls, and wood accents and comes complete with fully redone kitchens, bedrooms, living rooms, and bathrooms.
The larger of the two buildings, which features two upstairs apartments called the "City-Wide Loft" and the "Creek View Loft," as well as an additional six "city-friendly" lofts below. The second building features six slightly larger studio apartments.
A full laundry room is also available for guests to use during their stay. Each apartment will be furnished with furniture from Butler's Furniture after Bertel receives his furniture shipment from the company. Each loft and apartment already come equipped with microwaves, mini-split HVAC units, and refrigerators.
The windows for the apartment have also received a tint treatment that prevents people from looking inside.
Each apartment comes ready with its own fiber internet line from Yelcot, and all living expenses, including electricity, water, and garbage, are included in the rent.
The complex has also seen an upgrade to its parking lot and has received some additional love for its landscaping to bring the front lawn back to life.
"It's no-frills, but it's nice," Bertel said.
Bertel's updates to the property stand in stark contrast to what it was before.
The Spring Valley Motel/Kitchenette complex has been in rough shape over the past couple of years and has become a source of concern for the Baxter County Sheriff's Department after multiple drug arrests were made at the location.
The exteriors of the motel's two buildings were falling apart, and garbage was regularly strewn about the property. Boarded-up windows covered an interior that featured graffiti, holes, mold, and more.
The City of Mountain Home, which has been cracking down on properties in disrepair over the past few years, had the property listed as a nuisance property back in 2019, alongside the Mountain Home Hotel. Both properties went to auction through the Sheriff's Office last year after the Baxter County Circuit Court threatened to have both properties razed if their previous owner didn't work to clean up the site.
On Dec. 27, the Spring Valley Motel passed into the hands of Bertel for $140,000, who immediately began work on the motel.
"This is bad," said Bertel as he surveyed the outside of the motel with the Observer during a previous story in February.
With the renovation complete, Bertel now has his eyes on filing each apartment with many of the transient workers that come to Mountain Home for work.
The transient workers included nurses at Baxter Regional Medical Center and construction workers that get contracted to the area.
Each apartment will be rented on a month-to-month basis so that workers do not have to worry about being locked into a long-term lease.
Bertel said the goal is to provide a high-end complex for workers to live in, allowing them to continue to help Mountain Home's economy grow.
"These are for transient or semi-transient workers that don't need much," Bertel said.
The Dels Corporation owner is currently in charge of eight commercial units and 427 residential properties throughout Arkansas and Missouri, and his work list is only growing.
He recently added a Rio Burrito, a burrito franchise he started with his wife Kelsey Bertel in Mountain Home, to West Plains, Arkansas. In Branson, Missouri, he's currently building the OZ+MO Commons, a new Euro-inspired, eco flat residential complex just one mile outside of Silver Dollar City.
His Mountain View complex, Sylamore Studios, is set to open this summer for residents seeking a minimalist lifestyle in the popular folk music town.
In Mountain Home, Bertel oversees the Dels and North Village, both minimalist complexes that focus on bringing affordable "micro" housing to the area.
A Mountain Home native, Bertel founded The Dels Corporation in 2018. His very first project was fixing up a mobile home. Since then, his construction company has expanded to be one of the biggest in the Mountain Home area.
Bertel has also served on the Food Bank of North Central Arkansas's board and currently serves on the board of Mountain Home's Chamber of Commerce.
His wife, Kelsey Bertel, is the owner of Cove Coffee, downtown Mountain Home's only sit-in coffee house. Like her husband, she is also in the process of expanding her coffee business to new locations throughout the Ozarks.
Together, the couple has become one of the major drivers in the push for the rebirth of Mountain Home, alongside other young entrepreneurs like Rapp's Barren Brewing Company owners Russell Tucker, Chris Gordon, and Kyle Swallow.
For more information about the City Center Commons, please contact The Dels Corporation at 870-232-0010.
Photo Gallery: