Mountain Home Public School honored its AP scholars and teachers during its monthly school board meeting yesterday evening following a brief presentation of the district's AP program by MHPS teacher Stephanie Hughes.
MHPS's AP program has seen great success over the last few years, with 205 students participating in the district's 14 seated/virtual Arkansas AP courses. Courses included topics such as art history, calculus, chemistry, computer science, English language and literature, environmental science, music theory, physics and more.
"We wanted to take a minute to honor our AP scholars and teachers," Hughes said. "We have one of each here, Mr. Madison Ingle is an AP teacher and Lana Kawai is one of our AP scholars. She is a senior this year."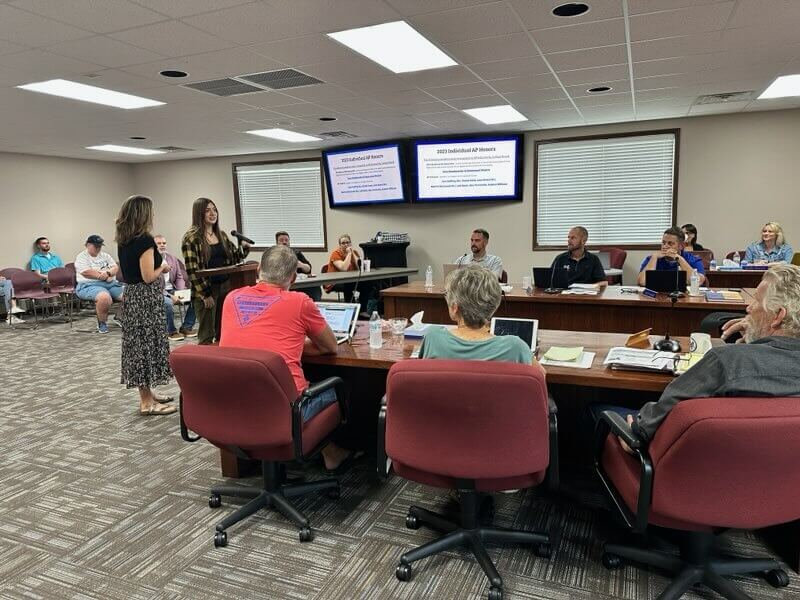 During the 2022-2023 school year, students tested in AP exams 266 times with 27.32% of all AP students scoring a three or above on their exams. A four percent increase over the previous year.
AP exams are scored on a scale of 1-5, with five being the college grade equivalent of an A or A+. A three would fall in the B- range.
"For our results this year, we have the largest percentage that we've ever had of our percentage of scores for students who scored a three or above on an AP class," Hughes said. "If they score a three or above on an AP class, they can get college credits. So, 27% of our students that took AP courses and took the AP test this past Spring scored a three or above. That's a great celebration, very excited about that."
In addition to the overall program's success, Hughes noted that 93% of AP students taking Ingle's AP Chemistry scored a three or higher. In Mrs. Jennifer Drewry's AP English Literature & Composition class, 64% of students scored the three needed to earn college credits. In Mr. Wil Norris's AP Physics class, 63% of students taking the class also earned college credits.
Two students, Ivan Bondarenko and Emmanuel Westra, earned 2023's AP Scholars with Distinction for scoring an average of 3.5 on all AP exams taken during high school. Bondarenko graduated from Mountain Home High School one year early and is now in college.
Hughes said both students had more than 15 exams each underneath their belt.
Other MHPS AP Scholars who were recognized for high marks included Jace Godfrey, Daniel Jones, Lana Kawai, Merritt McConnell, Lexi Rauls, Alea Vaccarella and Aniston Williams.
"I recently, just this week, applied to the University of Arkansas and Missouri University of Science and Technology. And I'm in the process of applying to Hendrix," said Lana Kawai when speaking to the Mountain Home Public School Board.
Kawai is currently enrolled in three AP courses this year. She has already passed three other AP courses during previous school years. She has scored a three or better on all of her exams.
There are currently 319 students enrolled in AP courses this year.
Other school board news
In other school board news, MHPS will be meeting with state representatives today to discuss the future of Mountain Home High School following this year's second failed attempt at securing funds to rebuild portions of its original 1960's campus.
During last night's meeting, MHPS Director of Operations Chris Knight said the district will be receiving a comprehensive transition plan on what the state expects to be done in addition to a timeline that the district must meet if it wishes to keep MHHS from being labeled a distressed facility by state officials.
"You won't have a choice. You'll have to do it. If you don't get it done in their time limit, they'll put you in facility distress and take care of it," Knight told the school board.
When asked if the state was going to help the school district with MHHS, Knight replied with a curt "no."
"If we were to apply for partnership funding for anything, and that could be included in that, it might get bumped higher up the list. Because, you know, last time we were approved, but we were not funded," Knight said when asked about applying for assistance.
Mountain Home Superintendent Allyson Dewey said if the district did manage to somehow secure funding from the state, they would not receive it until 2025. MHPS is currently operating in a budget deficit.
In other news, the school board approved a new $1,500 stipend for the 7th Grade Spirit Squad following on the condition that PPC would "open the can of worms" surrounding the district's stipend policy. PPC recommended that the school board reject the $1,500 stipend proposal due to budget concerns and a lack of framework in determining what activities deserve a stipend.
Mountain Home School Board member Scott Booth argued in favor of having PPC work on the issue, while also approving the latest stipend request, citing his desire to not punish the teacher for putting in extra work for students.
Many MHPS teachers who run many of the district's extra-curricular programs do not receive stipends for the extra hours worked like many of their counterparts.
PPC will now work to review and create a framework for stipends that appeal to all teachers on behalf of the school board throughout the rest of the year, before presenting a proposal to the school board in January.